Love & Bass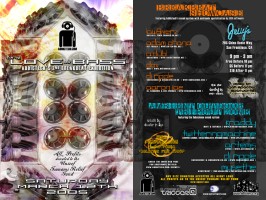 March 12th, this Saturday night, good times for a good cause. qak, spaceout, and i on viz.
Jelly's 295 China Basin Way San Francisco, CA

21+ up 9 pm - 3 pm Free before 10 pm $5 before 11 pm $10 after 11 pm

Join us for a very special night of breakbeat madness to provide help and support for the tsunami victims. ALL PROFITS from the party will be donated to the Unicef Tsunami Relief Fund!

We have brought together the leaders of the SF breakbeat scene, and have an exclusive first time San Francisco appearance by Trigger Sound system residents The Lawgiverz and Kosmik Neil to take your mind and booty to the next level!

We are also providing an ambient/downtempo/glitch outdoor area to explore, with sonic landscapes provided by local sound sculpters and performance artists.

All of the local artists and soundsystems have donated their time and energy to make this happen. BIG UP Everyone involved, the vibe is alive! Addictech throws a party only once in a blue moon... come with us, for The Love and Bass!
Posted by spot at March 9, 2005 06:30 PM