tomorrow night: Convocation at False Profit HQ
this saturday night at the new false profit hq in potrero, deep dub beats and visuals by a team including spotworks.

it's another nostalgic gig. in 2000 and 2001 i was a regular at the dub-beautiful events, and i look forward to being back. the music is going to be great. it's no coincidence that i recently released a video to one of alex's tracks:

http://draves.org/blog/archives/000275.html

i must admit i'm having trouble writing this email because just a few minutes ago i loaded electric sheep generation 191 into a playback computer and am seeing it complete for the first time. this is 13 gigs of the from the new version, complete without breaks. it's hard for me not to just sit and watch. by this weekend i should have it combined with the 30 gigs from gen 188 and 190. this saturday will be its first public exposure...

anyway, on with the deets:
Saturday June 18.2005
dub beautiful collective & false profit present...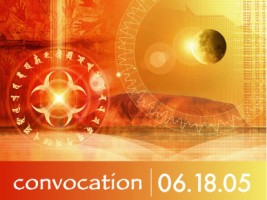 C O N V O C A T I O N
where no dub fears to tread

featuring live performances from:
Shulman
Aleph-Zero Records - Tel Aviv, Israel
Bluetech
Native State Records - Vancouver
Alex Theory
Mystic Vibration & OEM Recordings - San Francisco
Phutureprimative
Waveform & Native State Records - Portland
Shen (aka Noah Pred)
Metapath Recordings - Vancouver
just added! live performances from special guest:
Androcell
Celestial Dragon - Phoenix
Alpha-7
San Francisco
---
Visuals
Artwork
Deco
Spot &
English Steve
St. Even
Saturnia &
Aaron Sorber
---
dub beautiful collective makes a late entrance into 2005 with an amazing lineup comprised of this year's Ambient Alchemy Tour plus our own prodigal child, Alex Theory! this will mark the first US appearance of Shulman, as well as Alex Theory's record release on dub beautiful's OEM-Recordings label, the local debut of Phutureprimative and Shen, and the next evolution of the Bluetech sound. this show also celebrates the brand new headquarters of False Profit LLC - the stalwart of SF conscious events.
C O N V O C A T I O N will showcase a wide variety of dub music: psychedelic dub, ethno dub, reggae dub, and dub techno - from some of the top musicians in the world.
food & water will be served. BYO (whatever else)
original flyer artwork by Amani @ globaldragon.com
9pm - 5am
$15 advance, $20 door
at the Soap Factory Annex
San Francisco - Potrero Hill District
(address released june.1.05)

Links:
Ambient Alchemy Tour - http://www.ambientalchemy.com
Aleph-Zero Records - http://www.aleph-zero.info
Native State Records - http://www.nativestaterecords.com
Mystic Vibration - http://www.mysticvibration.com
Alpha-7 - http://www.alpha-7.org

Global Dragon - http://www.globaldragon.com
Spotworks - http://www.spotworks.com
Divine Reflections - http://www.divinereflections.ca
Posted by spot at June 17, 2005 12:39 PM