"165 Star Oasis" part of Sub-Station in Vancouver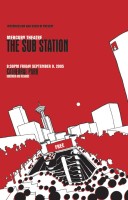 This Friday Night in Vancouver's Cathedral Park,
Inter-mission Artists Society
will present
Mercury Theatre lll: The Sub-Station
. The park sits atop a skyscraper-sized underground power-station that provides electricity to the whole core of the city. Inter-mission took submissions on this theme, and I sent in the
165 Star Oasis
. The video will be mixed by live VJs. The story in the Vancouver
local weekly
. Below is their press release:
Presented by Intermission and Video In Studios

Friday, September 9, 2005

9 until midnight
Cathedral Park @ Richards & Dunsmuir
Free admission


Mercury Theatre lll will be an unprecedented outdoor presentation of video and sound art using the downtown location, Cathedral Park, as a setting to contextualize this year's theme, "The Sub-Station".

For the 2005 theme, artists will attempt to put the location of Cathedral Park into perspective by considering its placement atop 27 floors of Vancouver's electrical sub-station. This sub-station not only connects all of Vancouver as the distribution centre of electrical power, it also suggests hidden worlds, the subterranean workings of the city, and of course, life down below.

In 2003, Mercury Theatre looked at Vancouver as a sci-fi landscape. 2004's program took sci-fi one step further to examine the 'New Barbarians' and the barbarian that is in each and every one of us. Now in 2005, Mercury theatre will take sci-fi to a new level. 'The Sub-station' will be a surface level hive of electronic art forms being fed by the source and outputting back into the world. It looks like sci-fi but it's actually real-fi!

This year's program features a fourteen piece electronic improvised orchestra, four live art performances, and over 25 video submissions from across Canada that will be mixed live for your viewing pleasure.
Posted by spot at September 5, 2005 12:33 PM