Spotworks at Spectra in Manhattan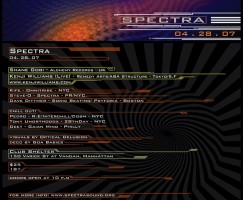 this saturday night in the west village, a special night of live and DJ'ed psytrance music.
the highlight will be my friend and collaborator, techno-violin sensation kenji williams playing "gaia journeys", hot from the sold-out premier in denver, with earth visuals by carter emmart of the hayden planetarium.
then the electric sheep and i will blast-off from low-earth orbit into outer space, kick in the warp drive and head for the center of the galaxy, up-tempo and beyond....
not to be missed!
spectrasound.org kenjiwilliams.com spotworks.com electricsheep.org
April 28th, 2007 10 p.m Club Shelter 150 Varick St at Vandam $25 18+
Shane Gobi - Alchemy Records UK Kenji Williams (Live) Remedy Arts Tokyo/S.F Kife - Omnitribe NYC Steve-O - Spectra PR/NYC Dave Dittmer - Sonic Beating/Psyforia MA
Shane Gobi - Alchemy Records UK Alchemy Records founder and Label Manager. Considered one of the best psy-trance DJ's, Shane is known for his technical and energetic style. This will be Shane's first NYC performance.
Kenji Williams - Live - ABA Structure/Remedy Arts S.F/Tokyo Join us at 10:30 p.m as Kenji presents 'Gaia Journeys'. A multimedia performance of earthly orbital flight in space. Visual direction, live ambient music and violin by Kenji Williams. At 1:00 a.m Kenji will perform his live uptempo techno-violin set
Kife - Omnitribe nyc Steve-O - Spectra pr/nyc Dave Dittmer - Sonic Beating boston
In the Chillout...
Pedro - Interchill/Cosm nyc Tony Unorthodox - 28thDay nyc Deet - Gaian Mind philly Posted by spot at April 26, 2007 11:51 AM