Demo at Lucid NYC "Like Buying Banality Offsets"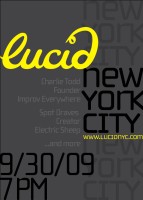 Next week I'm giving a presentation and explanation of my latest high fidelity works. From
the site
:
WHAT?
Lucid is excited to announce its next event is on Wednesday, September 30th in a rock ní roll Manhattan bar! Presentations will include Improv Everywhere founder Charlie Todd, Digital Artist Spot Draves and Peter Joseph, director of Zeitgeist the Movie. There will also be an interactive installation from the minds of Lucid Labs.
WHEN / WHERE?
Bowery Electric
Doors Ė 7pm
Talks Ė 8-30pm-10pm
Happy Hour daily from 5pm to 9pm offers $3.00 of all drinks.
$20 RSVP / $25 at the Door (includes one drink)
WHY?
Lucid gathers a diverse audience for a night or inspiration and interaction. At itís core is a series of short presentations on a variety of topics. The rest of the night is devoted to keeping the conversation going, meeting interesting people in a relaxed, non-commercial, unmediated environment and getting involved with one anotherís projects and passions.
Check us out on Facebook, and if youíre out in LA, check out Mindshare.la Posted by spot at September 24, 2009 07:45 AM