Bomb still kicking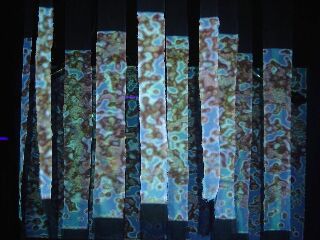 I just got this email from VJ Yetimon in New Zealand:
Gidday Scott! I've been a big fan of Bomb for several years, and your software was one of the first VJ apps I used when I started doing parties. One of the things I love about Bomb is that it is simple enough for anyone to use, and to that end I've built an interface out of arcade machine buttons hardwired into an old keyboard. I'll often put this in the chill space and encourge the punters to have a play.

Here are some pics of the last gig I did - a very good psytrance party in a tattoo muesum (quite a stunningly good venue for psytrance!) page one page two

I also mixed a set using Electric Sheep movies, converted to play in Resolume. Again, quite a perfect match for the music.

Keep up the fantastic work Scott!
Thanks Hamish!
Posted by spot at September 27, 2004 01:32 PM