Starsheep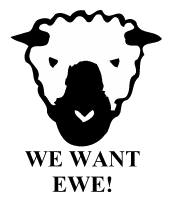 This is too weird to pass up:
Starsheep
- the magazine of speculative sheep. From their page:
Welcome, sheep lover. Don't be sheepish -- Starsheep is a new magazine for people just like you. We plan to be the ultimate source of speculative fiction stories that involve sheep. Our first issue is planned for March 31st, 2002, and will be published right here, on this web site. Until that day, we plan to gather sheep materials to fill this place, so don't hesitate to send yours.
from TM.
Posted by spot at October 6, 2004 12:11 AM