upcoming events: Techno Cosmic Mass, Synergenesis, Green Festival, Accelerating Change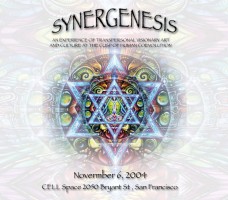 I will perform live video at a special
Techno Cosmic Mass
with
Ralph Abraham
on Sunday October 24th 4:00-6:30pm in the Historic Sweets Ballroom.
And at Synergenesis at Cellspace on Saturday November 6 I'll be speaking about Electric Sheep after Robert Venosa, and hopefully doing live video for the dance party that night.
Also on the 6th at 5:30pm I'll present at the Green Festival, located in Room 2 of the San Francisco Concourse at 8th & Brannan St.
Finally, I'm going to give my schtick at the Accelerating Change conference at Stanford on the evening of Friday November 5. Posted by spot at October 17, 2004 03:08 PM