WorldSpirit Premier and Afterparty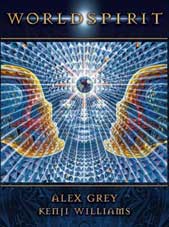 I'm sure many of you are familiar with Kenji Williams and Alex Grey and their beautiful DVD WorldSpirit. If not check
this flash trailer
out.
This saturday is the SF premier, and I'm honored to be performing video for the afterparty. The line-up of musicians, DJs, and artists is truly phenomenal.
Kenji's music can be heard on my own SPOTWORKS DVD, and my Electric Sheep animations can be seen in one of the bonus tracks on the the WorldSpirit DVD, so these are sister publications.
I hope to see you there. Here are the details:

WORLDSPIRIT DVD LAUNCH AFTERPARTY
Febuary 5th, 10pm to 4am, $10 @ Infinite Kaos 136 Taylor St., SF

Plese join us at Infinite Kaos to celebrate the SF Premier of the
beautiful WorldSpirit DVD, an extraordinary journey of art and sound
celebrating the words & paintings of Alex Grey and the music and film
direction of Kenji Williams.

Flyer and more info at http://FluffyEvil.com

LIVE PERFORMANCES BY
Kenji Williams (progressive techno violin)
Zoe Keating (looping cello)

DJs
Syd Gris (Opel/Opulent Temple)
Rhythmystic (Beatstream/Rhythm Society)
Pacwan (SFDance.org)
Ammon (Rhythm Society)
Jacaranda (Stratiform.net)
Ezra (Rhythm Society)
Adnan (LUSH)

Altars, Free Organic Fruit and Chai service by Chai Guy, Art by
Vibrata, Visuals by Spot and CaroLuna, poi by GlitterGirl, bellydance
by Lazuli and Nefertem, massage therapists & more!

Tickets $10 at the door, or free (donations welcome) only with proof
of admission to the Worldspirit film screening earlier in the evening
at 7:30pm @ SF Art Institute, 800 Chesnut St, see
http://KenjiWilliams.com for more info.


Posted by spot at February 1, 2005 01:25 PM