Oakland cop beats, tasers, then kills.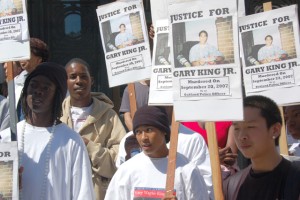 A tragedy in Oakland. My friend Brad sent the following letter to several newspapers:
Oakland Police: To protect and serve, or to kill?

Gary King, Jr. was murdered on September 20th by Sergeant Pat Gonzales of the Oakland Police Department. According to eyewitnesses, after having complied with an order to approach Gonzales' cruiser, Gary was attacked by Gonzales. Gary attempted to disengage himself from the altercation, but Gonzales beat, stripped, and repeatedly tasered Gary. Gonzales then released Gary, disoriented, hurting, and scared, and pumped two bullets into Gary's back as he fled.

Police claim that a pistol was found in Gary's possession. Whether or not Gary had a pistol, however, is irrelevant — none of the witnesses saw Gary draw a pistol. Gonzales was the only police officer on the scene until after he shot Gary and no witnesses are corroborating his story.

King's death is not an isolated incident: in 2006, Gonzales shot and paralyzed 17-year-old Ameir Rollins, and in 2002, Gonzales shot and killed 19-year-old Joshua Russell.

Police Chief Tucker acknowledged the abnormality of an officer shooting so many suspects, but isn't questioning Gonzales' claim, universally refuted by witnesses, that Gary was drawing a weapon. OPD wants to protect their own, but Gonzales belongs in prison. Justice must be served.
coverage in
indybay
,
unfit to print
,
the berkeley daily planet
, and
KTVU
. Can our attention be part of the solution?
Posted by spot at September 28, 2007 10:59 PM