Gaian Mind in June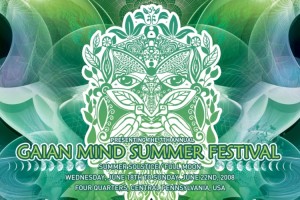 On the East Coast there's one summer festival that's legendary for good vibes:
Gaian Mind
. I am pleased to announce that this year I'll be performing as a VJ on the main stage, and bringing the Electric Sheep's
Dreams in High Fidelity
as an installation for the downtempo stage. This is a multi-day outdoor camp-out in central Pennsylvania, my home state. I have a feeling about this one. The music headliners are amazing:
RASTALIENS, BRAINCELL, E.V.P, REALITYGRID, DIGITALIST, TREAVOR MOONTRIBE, AES DANA, SOLAR FIELDS, H.U.V.A. NETWORK, MAHIANE.
Tickets: Advanced - $110 (April 14th – June 8th), Gate - $145* (June 18th – June 22nd). Posted by spot at May 6, 2008 03:27 PM