Press Release: Generation 243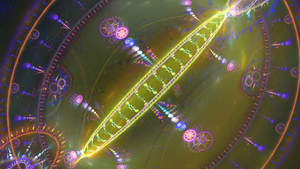 On Tuesday we installed my latest work into the
Gates Center for Computer Science
, the new home for the Carnegie Mellon School of Computer Science. Bill Gates himself saw the art and couldn't keep his eyes off it. Below is the press release as it appeared on
the news wire
:
Edit: Newspaper coverage and photos and a magazine.
Scott Draves' Piece "Generation 243" to Premiere at Carnegie Mellon University's Gates Center for Computer Science Grand Opening
Moving Painting Generated From Math and Evolution to Play on 52-Inch LCD HD Screen at the Gates Center Portal to the Purnell Center for the Arts
PITTSBURGH, PA -- 09/21/09 -- In conjunction with the launch of the new Gates Center for Computer Science and Hillman Center for Future-Generation Technologies at Carnegie Mellon University, the Computer Science Department has commissioned a new work by accomplished software artist Scott Draves, a 1997 PhD graduate of the department.
"The level of sophistication of Scott's artwork reflects both the creativity and the academic rigor of SCS," said Randal E. Bryant, Dean of Carnegie Mellon's School of Computer Science. "This piece shows that math can be beautiful, that computers can be emotionally moving, and that a career in programming can be artistic."
Based on thousands of lines of open-source code written by Draves, the abstract art begins with unique algorithmically generated genetic codes. Hundreds of thousands of generative designs are then put through a multi-step human selection process which includes crowd-sourcing, the survival and sexual reproduction of the fittest genetic material, and the artist's personal preference. The approximately 50 designs chosen for Generation 243 took about 200,000 computer-hours to render. They are distilled from 2 terabytes of data, and played back in true high definition of 1920x1080 pixels.
The resulting piece is made up of about 150 different video segments measuring between 30-100 seconds and reflecting a variety of moods, each morphing seamlessly into the next. By way of example, one segment is made of rose, silver, and gold and has a shimmering, ethereal quality; another resembles a glowing sun in the night sky, pierced with bright strands of spiraling lightning bolts. The next segment may show what looks like autumn-colored mosaic tiling melting on the floor of a mosque, followed by a nest of iridescent threads tangling together in the center to form a vivid, embryonic knot. The order of the clips is always different; rather than playing as a loop they are pulled from a database in ever changing, non-repeating procession.
Peter Lee, Draves' thesis advisor on the topic of programming languages and interactive graphics, and the former head of the Computer Science Department, said that Draves' work was an obvious first choice for a place of honor in the new Gates and Hillman Centers. "Scott's work is conceptually beautiful and visually engaging. It's amazing to see how far it has come over the past 15 years," said Lee.
Generation 243 was created with the Electric Sheep, a cyborg mind consisting of tens of thousands of computers and people all over the internet. This software system is a form of artificial life Scott Draves created in 1999 in which each image is the solution to an equation with thousands of parameters and millions of variables. The population reproduces by Darwinian evolution, with the fitness function driven by human desire. To create this one-of-a kind piece, Draves handpicked his favorite bloodlines from the 243rd generation of the system.
About the Artist
Scott Draves is a software artist best known as the creator of the Electric Sheep, a continually evolving abstract animation with over 60,000 daily participants. He created the original Flame algorithm in 1991. Many of Draves' software artworks are released as open source and distributed via the Internet. Draves' award-winning work is permanently hosted on MoMA.org, and has appeared in Wired and Discover magazines, the Prix Ars Electronica, Vida, Piksel, and others, and has been acquired by corporate and residential collections nationally. Born in Pittsburgh, Draves is an engineer at Google Inc. In 1990 he received a BS in Mathematics from Brown University and in 1997 a PhD from the School of Computer Science at Carnegie Mellon University. For more information, see www.scottdraves.com.
About the Gates and Hillman Centers
The newly constructed Gates and Hillman centers contain classrooms, research space and offices for the Carnegie Mellon School of Computer Science (SCS). The buildings are designed by Mack Scogin Merrill Elam Architects of Atlanta, Ga., and landscaped by Michael Van Valkenburgh Associates of Brooklyn, N.Y., and Cambridge, Mass. to support a culture of collaboration that is a distinctive trait of the school and has helped to make Carnegie Mellon one of the world's leading centers for computer science education and research for more than 50 years.
The buildings serve as crossroads for the entire university community, with five main entrances and two major pedestrian bridges providing new connections to key parts of the 140-acre campus. A $20 million gift from the Bill & Melinda Gates Foundation and a $10 million gift from the Henry L. Hillman Foundation were instrumental in making the buildings a reality.
About Carnegie Mellon
Carnegie Mellon is a private research university with a distinctive mix of programs in engineering, computer science, robotics, business, public policy, fine arts and the humanities. More than 10,000 students receive an education characterized by its focus on creating and implementing solutions for real problems, interdisciplinary collaboration, and innovation. While technology is pervasive on its 144-acre Pittsburgh campus, Carnegie Mellon is also distinctive among leading research universities for the world-renowned programs in its College of Fine Arts. A global university, Carnegie Mellon has campuses in Silicon Valley, Calif., and Qatar, and programs in Asia, Australia and Europe. For more, see www.cmu.edu.
Contact:
Isabel Draves
917-312-5999
isabel@scottdraves.com
Byron Spice
412.268.9068
bspice@cs.cmu.edu
Posted by spot at September 23, 2009 07:12 AM