May 26, 2005
Sonification of the Electric Sheep
i am seeking collaborators to add a sound-track to the electric sheep. this would be software that generated audio based on the same genetic code and also based on the images. i made a web page to explain it:
http://electricsheep.org/sound/
you can download a dataset for development from that page. drop me an email if you have any suggestions or questions. you are encouraged to forward this announcement.
thx, -spot
Posted by spot at
06:01 PM
|
Comments (1)
May 25, 2005
NSFW: Party Sheep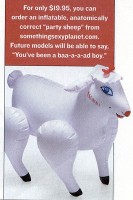 This is a case where I'm not going to link to the site where I got this. I will only say it came from the Nephology list posted by"The Reverend" in a thread titled "Self Petting Pussy".
Posted by spot at
06:03 PM
|
Comments (1)
Large Flocks on Disk and Sheep Appliances
We all know it takes a long time to download a lot of sheep. And you'll never get the sheep that lived and died before you connected to the server in the first place. What you might not know is just how good
Electric Sheep
looks when you have, for example, 75 gigabytes of sheep in your cache. Well, let me tell ja, it looks pretty damn good :). It almost never skips or jumps, and it almost never repeats... The trance effect is much more pronounced.
Well here's a solution for those who crave instant gratification: I could provide a large flock of sheep on a external hard drive. Just plug it in to your PC or Mac, point the software at your new flock, and enjoy the show. It would take one computer 20 years to render all these sheep.
For those who want the ultimate sheep experience I have also developed a sheep appliance. This is a special super-silent fanless computer loaded with sheep software and configured to run completely automatically. No keyboard or mouse is required, just plug it in and turn it on. This is a very good looking device that goes well in your bedroom or livingroom (or your restaurant, bar, or lobby).
Does this interest you? Drop an email to shepherd at electricsheep.org.
Posted by spot at
01:12 PM
|
Comments (0)
May 23, 2005
SPOTWORKS carried by CVM & iota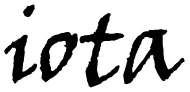 SPOTWORKS
is available from both the
iotaCenter
and the
Center for Visual Music
. The rest of their catalogs consists of abstract film pioneers such as Len Lye, Oskar Fischinger, Stan Brakhage, Man Ray, and David Lebrun. Whaah. I can't decide if it's an honor to be listed alongside such great artists of the past... Ok well maybe a little honor ;)
Posted by spot at
03:57 AM
|
Comments (0)
sheep for win32 2.6.2
get it
here
as usual.
The big change here is the evil smiley has been replaced by a nice overlay that doesn't stop the sheep playback. Try voting with the up arrow key and you'll see what I mean right away.
Also the same flam3 updates as in the linux client 2.6.1 and also fixes the sometimes lack of termination of the unique id (this is kind of important).
Posted by spot at
12:18 AM
|
Comments (0)
May 22, 2005
SPAM free blog
After much pain and many hours of manual labor I am proud to declare this blog to be SPAM free! My fingers are crossed that I will be able to keep it this way. If you find any spam in the comments, please send me email and I'll take care of it ASAP.
I tried Jay Allen's blacklist which is a database of URLs to block, but even with frequent updates from the master blacklist and aggressive additions by myself, tons of spam still got through. I tried changing the locations of the comment scripts, and that slowed them down... for a while.
Now finally I am using James Seng's ancient, simple, and functional scode package. Very very little gets through (how?) and so far I have been able to keep up with the new stuff. I've even been able to go through the archives and delete the spam that collected before I was so well protected.
I know eventually they'll be back, but today I declare victory :)
Posted by spot at
04:17 PM
|
Comments (0)
new flock mini-thumbnails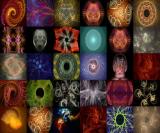 The sheep server now has current flock mini-thumbnails. The image on the left here is archived and fixed, the one on the right points to the sheep server and should be updated as new sheep are born. I'd like to see a whole page of this, all linked, for the archives...
Posted by spot at
01:35 AM
|
Comments (0)
May 21, 2005
sheep linux client 2.6.1 and flam3-2.6b2 released
get sheep client
here
and flam3 tools
here
as usual.
changes from 2.6 to 2.6.1: update flam3 library (see below), reduce load on server and startup smoother.
the FLAM3 changes are:
05/20/05 fix memory trashing bug resulting from xform overflow. put regular xforms before symmetry in printed genomes. enforce weights non-negative & at least one xform. remove nan-protection from popcorn variation. truncate xforms with very small weight.
Posted by spot at
09:43 PM
|
Comments (0)
May 19, 2005
2.6.1 for win32
get it
here
as usual. please install this even if 2.6 was working fine for you, as it will reduce the load on our server.
changes: fixes bug where can download some sheep from old server. wait before reserving frames to reduce timeouts. reduce max repeats.
Posted by spot at
04:20 PM
|
Comments (0)
May 16, 2005
sheep 2.6 final released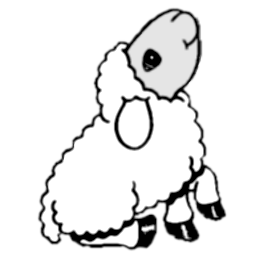 Electric Sheep
2.6 has gone final. Soon the 2.5 server will be shut down. All users should
upgrade
their clients to 2.6 (beta users should upgrade to the final release too). Windows beta users should also change the server setting from v2d6b1.sheepserver.net to v2d6.sheepserver.net.
Linux users should also install the hacked version of xscreensaver so that keyboard voting works.
Unfortunately nobody has updated the Mac OSX client, so Mac users will be cut off. I am sorry, but i don't have a Mac and so i can't do it myself (it's not hard, really, hint hint).
Highlights of changes from 2.5 to 2.6: more colors, more shapes, more reliable downloading, more responsive, faster server, fewer bugs, etc, etc.
thanks to everyone who contributed to this release!
Posted by spot at
02:35 PM
|
Comments (86)
how my software forum became a shrine to Angelina Jolie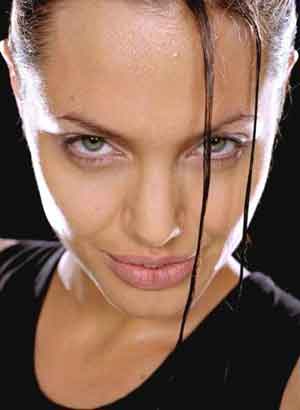 On May 21 1999 I created a public forum for my visual music software
Bomb
. On October 15 2002 one VESNA BOGOSAVLJEVIC
replied
to a question about a Linux sound API with the following non sequitur:
PLEASE SEND ME E/MAIL ADRESSFROM ANGELINA JOLIE
Years have gone by, the Bomb software has become history, and postings about it in the forum slowled to a trickle.
Presumably via google this celebrity plea has over the same years attracted others, and this branch of the forum has taken on a life of its own where lonely men for far-away places pledge their love for Ms Jolie in broken English. Like today's:
Hello Angelina Jolie, many kiss for You.

I am student of chemical technology in the University of Quindio, Colombia, and I am needy your collaboration voluntary economic.

I have a great many hope in You.

Please help me...

Good bye,

LUIS GERMAN VILLA CUASTUMAL Armenia, Quindio, Colombia.

May 2005
There are a bunch, including angry replies from those who think "AJ" would not care to read such things. Here was
one
from a teen fan looking for acting tips:
Hey.... i really do not think this message is actually going to get to Angelina! i have tried many times b4..Anyways i just wanted some contact with her... like if she could write me back. My ambition in life is to be an actress, i am 18 yrs old and i know that this is what i want to do. I watch angelina and it makes me want to be an actress more, i wish i couls get some help form her,i feel like she is my distant sister, we have so much in common. i love the fact that she is not like the rest of the celebrities. she has her own life, and she is gonna live it the way she wants to. I want to be like that, i also love knifes i collect them as well. i am great fan of hers, i have tattoos as well. And i really dont give a shit abt any other celebrity, i just love her attitude, and ppl may say that that she is crazy, but i think the world needs more like her... well angelina if u get this, i hope u could help me, i want to be an actress, but not just any actress! i want to be like u, and if u could write back and give me some ideas on how to do that, that would be great.. thnx CK
Posted by spot at
01:34 PM
|
Comments (1)
May 13, 2005
sheep 2.6b3 for win32 and 2.6b7 for linux and flam3 2.6b1
new beta client for windows and linux, get em
here
.
New in this release: fixes to rendering algorithm, option to display on primary monitor only, more responsive on multi-cpu systems, increase default cache size, update about box.
the flam3 package now has 2.6b1 available for linux and windows. These are the render algorithm fixes mentioned above. changelog:
05/13/05 fix bug reported by erik reckase where fan variation could blow up to NaN because the domain of atan2 was not protected. remove protection from all atan2 calls and instead detect NaN results and replace them with noise. count really large values as bad too to prevent blowing up to infinity. enforce 0<=hue<1, release v2.6b1.

05/05/05 report choices made during genome generation in notes attribute. flam3_dimension no longer hangs when most of the attractor is outside the camera. limit number of variations produced by genetic operators to 5. reduce rate of interpolation method of crossover.

03/17/05 put cloning back in (found by James Rantanen).
Posted by spot at
04:56 PM
|
Comments (0)
Pakistan's Decorated Vehicles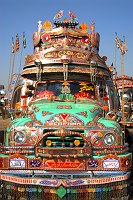 " Pakistan's wonderful psychadelic buses, trucks and things on wheels are glorious to photograph." Peter Grant on the subject of his extensive gallery of
photographs
.
from jon ross.
Posted by spot at
12:09 PM
|
Comments (3)
May 02, 2005
May Offering: 165 Star Oasis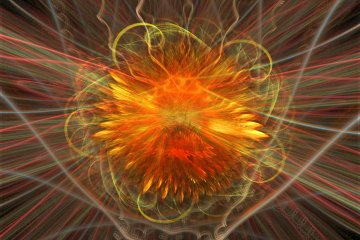 Ever since I met
Alex Theory
at a Planetworks party, I've wanted to work with his music. Today I can finally say I have.
Last week I visited Alex in his studio out by Ocean Beach and got permission to set video to "Oasis", the title track of his next album. I took high-resolution renders of my favorite Electric Sheep from Generation 165, and edited them to follow the lines and structure of the song.
I am pleased to share with you the result: "165 Star Oasis". The video is at full resolution, totalling 100 megabytes in Google Video or in MPEG-4 format (Windows users may need this media player) by bittorrent:
http://spotworks.com/bt/165-star-oasis.torrent
share and enjoy, -spot of
SPOTWORKS
ps. if you would like to receive announcements of future releases, you may subscribe to my email lists.
The visuals are distributed under the Creative Commons Attribution-ShareAlike License 2.0 by Scott Draves, and the music is All Rights Reserved by Alex Theory.
Posted by spot at
04:05 PM
|
Comments (64)
May 01, 2005
SPOTWORKS available by Netflix
SPOTWORKS
is now available by
Netflix
. It's kind of strange how they rewrote the text on the jacket.
Posted by spot at
11:34 PM
|
Comments (1)