Proteus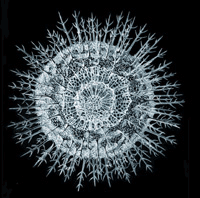 Proteus
is a new documentary film by David Lebrun on the life of 19th century scientist and artist Ernst Haeckel and his obsession:
radiolaria
. When I first heard about it I knew I had to see it because Lebrun made
Tanka
, one of my favorite animations. And I had already made my own animation out of the
Kunstformen der Natur
, Haeckel's most famous publication.
I finally had my chance but barely: my first night back from Japan was its last night at the Roxie. I was not dissappointed.
The film also draw's on Coleridge's The Rime of the Ancient Mariner as illustrated by Gustave Doré The historical and philosophical narrative is interspersed with abstract animations in Lebrun's distinctive stroboscopic style. It is as deep and beautiful as its subject.
Posted by spot at
06:46 AM
|
Comments (0)