At Long Last: Sheep v2.7 Beta for Mac
The v2.7 Electric Sheep has been in development for years and is finally seeing the light of day. The Mac version is running great and ready for you to
download
. Thanks to Daniel Svoboda especially for this release.
Because this version works so well, and because we are losing the hosting for the old 2.6 server (thank you Dean for many years of support), I've discontinued downloads of the 2.6 client.
The Windows 2.7 version works fine for some people but for most it has a nasty DX crash and our developer has given up so we are looking for some hacking help. There is a cash prize as well as a link in the credits on electricsheep.org.
Posted by spot at
06:37 AM
|
Comments (0)
Showing at Visual Music Marathon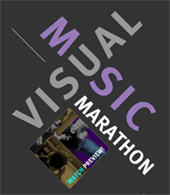 April 11th at the Visual Arts Theatre, 333 West 23rd Street, New York City, 10am - 10pm
Visual Music Marathon
. "Star Oasis" plays at 5pm. Don't miss the online preview.
Posted by spot at
09:12 PM
|
Comments (0)