Show in Hungary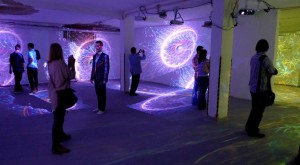 I just got back from a beautiful and too-short trip to Hungary to give a speech and install a show. The talk was at
TEDx
colocated with the show at 320°, an old bread factory being converted into a museum (the name refers to the temperature of baking bread). Two summers ago their inaugural show was work by Frank Gehry, last year was Chinese contemporary, and this year is "3 Color" which includes me, contemporary Mexican photography, and local posters.
The setup is impressive: 5 computers of "Dreams in High Fidelity" I and II driving 25 projectors spread over several rooms. The result is immersive and infinite, a changing world you can wander through, or just sit down and watch. While I was there I got a few pictures of it in action.
The show will stay up all summer, until the end of October in fact. The address is Somogyi u. 53. Siófok, Hungary, 8600
Many thanks to Peter, Mark, Laszlo, and the whole team!
Posted by spot at
10:28 AM
|
Comments (0)
Opening Tonight: Digital Art @Google: Data Poetics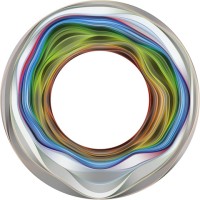 You are cordially invited to our opening tonight. Please RSVP! Read the complete announcement at the
Chelsea Art Museum's
site.
Google launches exhibition program with The Project Room for New Media at CAM
Digital Art @Google: Data Poetics
June 11 - August 13, 2010
Opening Reception: June 11, 6-9pm
Exhibition location:
Google, Inc.
75 Ninth Avenue, 2nd Floor
Guests must RSVP
rsvp@chelseaartmuseum.org
Google and The Project Room for New Media at Chelsea Art Museum (CAM) in New York are launching an exhibition program, Digital Art @Google NYC, which will engage Googlers with the art world and promote creativity with digital technology. Data Poetics, will open June 11 with works by well-known international digital artists, Scott Draves, R. Luke DuBois, Aaron Koblin, Mark Napier, W. Bradford Paley, Lincoln Schatz, John F. Simon, Jr., Thomson and Craighead, Martin Wattenberg and Fernanda Viegas. The exhibitions and artist talks, which will take place at Google, will be open to guests at times announced on the website.
Digital Art @Google NYC is curated by Nina Colosi, Curator of The Project Room for New Media at CAM and founder of its public art program, Streaming Museum, which presents exhibitions in cyberspace and public spaces on 7 continents. The programs were inspired by pioneer video artist Nam June Paik who in the 1970s envisioned the Internet, predicting an "information superhighway" as an open and free medium for imagination and exchange of cultures.
According to Colosi, "A natural synergy exists with Google in this partnership. The Project Room's program showcases artworks and educational programs in its dramatic two-story black box space at Chelsea Art Museum, which incorporate technology and the Internet in the creative process."
Digital Art @Google emphasizes the correlation of Google's mission in organizing the world's information and making it accessible, with the ability of artists to reflect and synthesize information in the creation of artwork that expresses the contemporary world. The exhibitions and speaker programs will inspire, entertain, and help envision the world in new ways.
The exhibition program was initiated at Google by Josh Mittleman, User Interface Software Engineer, and supported by the Google Community Affairs committee at Google New York City. Mittleman described the motivation of the exhibit, "Art is one of many tools that can help to organize and make sense of the world's information. Digital Art @Google NYC is the first step toward introducing the digital arts community to Google, and to starting a conversation that will lead to a rich, ongoing collaboration."
The opening reception will be held on Friday, June 11, 2010 from 6-9 PM. Visitors may attend the opening, view the exhibition, and participate in the artist speaker program taking place at Google, Inc., 75 Ninth Avenue, 2nd floor, by sending an email to RSVP@chelseaartmuseum.org.
Posted by spot at
12:56 PM
|
Comments (0)