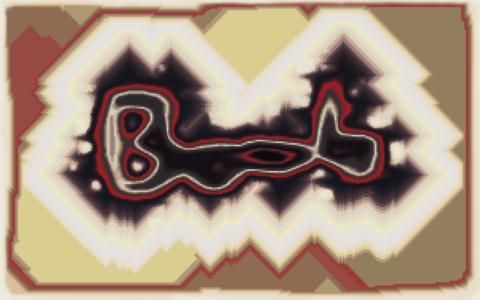 See the SPOTWORKS DVD including Bomb animations!

Bomb is a visual-musical instrument. It uses alife, and is alife. It runs on your PC and produces animated organic graphics in response to the keyboard, audio music, or on its own. You can download it from this web site, and run it on your PC. Artistic and conceptual explanations can be found here and here.

I encourage you to make your own "music" with Bomb, or just use it as a screensaver. I am always thrilled to hear about what people do with it, so please keep me informed if you make something of it. Collaboration is also a possibility. Mail me, or talk to other users in the discussion forum.

Please contribute to the creation of free software like this.

one click downloads:
RPM - Linux - Windows - Macintosh - BeOS - Max

More information about the recent versions for download:

these old mini versions do not include source code, and have many of the images removed to save download time and disk space (1.4 meg)

win32. This uses an older version of DirectDraw and may work on some systems not supported by v1.30.

People who have contributed to bomb (including those from whom i have copied code):
jepler@herbie.unl.edu: originally derived from vga_eyecandy
Tom Lawrence: rotor idea
Nick Thompson: wisps, waves, fade2cmap, many suck/*.gif
Eric Nyberg: gifs
Jim Frost: xli header file
Kirk L. Johnson: gif code
Torben Mogensen: idea for symmetric life
Andrew Willmott: lots of help for all sorts of mac things
rus@apple.com: mac sound code originally from cthugha
Peter Broadwell: showed me coupled quadratic maps
Jamie Zawinski: bits of X code (copyright below)
David Zicarelli: bug fix and max version
Martin C. Martin: found bug in tiff reading, did BeOS port
Sebastian Kuzminsky: found bug in flame-data reading
Caolan McNamara: made work on X root window
Jeremy Braun: ESD support

Here's some collections snapshots taken from the screen as it runs. these are only 320x200 and average 20k each. view them full-screen for best effect.
The reaction-diffusion images tile so they make great backgrounds.

documentation:
links
an early version of Bomb won 2nd place in the "public voting" at Bit.Movie 96.
a positive review from HotWired's Beta Lounge: "the COOLEST piece of eye-candy I have yet to see ... it nearly blew my brain out all over the turntables".
Reviews: Magellan's Log, Linux Gazette, Ron Pellegrino, Peat J, and Toueccans, Fred Callopy (check out his extensive history of visual music and his own music on the rest of his site).
Nell Tenhaaf used Bomb in her installtion neonudism and her new piece UCBM.
Roger Dannenberg and I have integrated his MIDI system W with Bomb, and used the result to produce In Transit, wherein graphics and accompaniment are synthesized in response to real-time trumpet improvisation. It has been performed many times, most recently at ICMC98.
nanodust uses it in the Chicago club Shelter and other projects.
UCO exhibition @ Herzliya Museum of Art, Israel 8/30/97.
Art-Tech Gallery in San Jose, CA 4/16/98 - 5/98.
art + aesthetics of artificial life at the UCLA Center for Digital Arts. 6/26 - 7/12.
Won the Prix du Public at Life 2.0 and was awarded 3rd place by the jury.
Exhibited at SCHVMER-HAUS , Austria.
Used for visuals on Kim Cascone's European tour 6/99.
Digital Biota party 11/6/99.
First Iteration video program.
Included in Evolutionary Design by Computers, ed. Peter Bentley.
Part of Patrick Lichty's audiovisual electronic installation The Grid.
Described in the write-up of Refresh: the Art of the Screen Saver.
thanks
This work is licensed under a Creative Commons License by spot at draves dot org.