Lecture/Demo at SFAI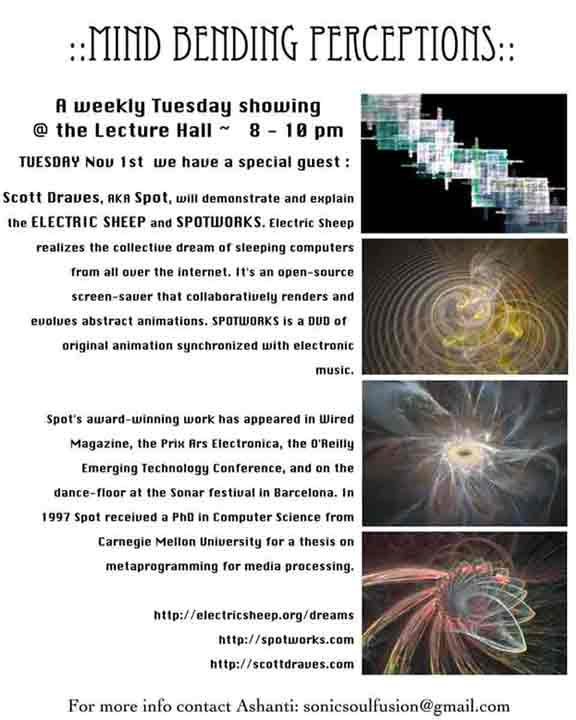 MIND BENDING PERCEPTIONS
A Weekly Tuesday Showing
@ the Lecture Hall ~ 8 - 10 pm
TUESDAY Nov 1st we have a special guest :
Scott Draves, AKA Spot, will demonstrate and explain the ELECTRIC SHEEP and SPOTWORKS. Electric Sheep realizes the collective dream of sleeping computers from all over the internet. It's an open-source screen-saver that collaboratively renders and evolves abstract animations. SPOTWORKS is a DVD of original animation synchronized with electronic music.
Spot's award-winning work has appeared in Wired Magazine, the Prix Ars Electronica, the O'Reilly Emerging Technology Conference, and on the dance-floor at the Sonar festival in Barcelona. In 1997 Spot received a PhD in Computer Science from Carnegie Mellon University for a thesis on metaprogramming for media processing.
http://electricsheep.org/dreams
http://spotworks.com
http://scottdraves.com
San Francisco Art Institute (Main Campus)
800 Chestnut Street, San Francisco 94133
(between Jones and Leavenworth)
415.771.7020
Muni : #30 from Market/Union square Drops you off at Columbus and Chestnut.
Posted by spot at
06:26 PM
|
Comments (0)