HiFiDreeams at SFLNC at Supperclub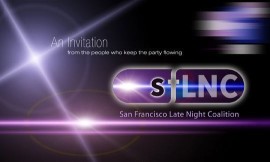 The
Dreams in High Fidelity
will be exhibited at this benefit dinner tonight:
---
Hey San Francisco!
I hope that you can join us T ODAY to celebrate the truly amazing entertainment community we have in San Francisco and support the Late Night Coalition. The party is Wednesday October 18, 2006 at SupperClub located on 657 Harrison Street between 2nd and 3rd Streets in San Francisco. D irections at www.supperclub.com.
Cocktails begin at 7 with dinner seating until 8. If you can't make the dinner, join us for the after-party from 11pm-2am . And, of course, if you can't make it at all, we will be sad to miss you but you can donate to the great work of the SFLNC by going to www.sflncparty.com and clicking on donate.
Guest Speakers: California State Assembly Member Mark Leno, SF Supervisor Fiona Ma & SF Supervisor Chris Daly
Live Entertainment all night featuring: Kerri Kresinski, Marisa Lenhardt, Members of Xeno, Kitten on the Keys, Kepi & Kat, Miranda Caroligne!
Astounding Sights and Sounds provided by: Spot Draves and VJ III DJ s: PussPuss, Ellen Ferrato, Adnan, Smoove, Laird, JT Donaldson and M3
Master chef Jon Stevens and his team serve up five light courses inspired by French and Italian techniques, each cleverly and most beautifully composed to please your palate.
Reserve your spot today - $250.00 per person includes complimentary wine.
After-dinner 11pm-2am Event is just $5-$10 sliding scale! ...for some of the hottest DJs and people SF has to offer!!!
Posted by spot at
09:33 AM
|
Comments (0)