Oakland cop beats, tasers, then kills.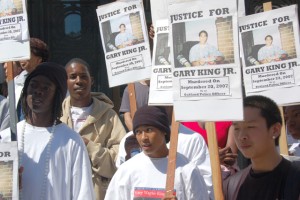 A tragedy in Oakland. My friend Brad sent the following letter to several newspapers:
Oakland Police: To protect and serve, or to kill?

Gary King, Jr. was murdered on September 20th by Sergeant Pat Gonzales of the Oakland Police Department. According to eyewitnesses, after having complied with an order to approach Gonzales' cruiser, Gary was attacked by Gonzales. Gary attempted to disengage himself from the altercation, but Gonzales beat, stripped, and repeatedly tasered Gary. Gonzales then released Gary, disoriented, hurting, and scared, and pumped two bullets into Gary's back as he fled.

Police claim that a pistol was found in Gary's possession. Whether or not Gary had a pistol, however, is irrelevant — none of the witnesses saw Gary draw a pistol. Gonzales was the only police officer on the scene until after he shot Gary and no witnesses are corroborating his story.

King's death is not an isolated incident: in 2006, Gonzales shot and paralyzed 17-year-old Ameir Rollins, and in 2002, Gonzales shot and killed 19-year-old Joshua Russell.

Police Chief Tucker acknowledged the abnormality of an officer shooting so many suspects, but isn't questioning Gonzales' claim, universally refuted by witnesses, that Gary was drawing a weapon. OPD wants to protect their own, but Gonzales belongs in prison. Justice must be served.
coverage in
indybay
,
unfit to print
,
the berkeley daily planet
, and
KTVU
. Can our attention be part of the solution?
Posted by spot at
10:59 PM
|
Comments (50)
Erik on Paul
Erik Davis on Paul Addis parts
one
and
two
. By far the best analysis of the early burn from the endlessly eloquent
Erik Davis
. My opinion is it was an act of mad genius, perfectly illuminating our psyches in the darkness of the lunar eclipse. Yes he should go to jail. That would be the ultimate finale, and give the act the gravitas that it deserves. But not for very long, that would suck.
Posted by spot at
10:09 PM
|
Comments (0)
VJ Performance at Harvest Arcanum
September 29, 2007
28thday
presents
Harvest Arcanum
featuring:
ARTIFAKT (Timecode, South Africa) - LIVE + DJ
OCELOT (Zaikadelic | Avatar | Dropout | Vertigo) - LIVE
ONNOMON (Soular, Philadelphia) - LIVE
LAURYN (Peak Records | 28thday, NYC)
sound by light-o-matic
Chill, dirty, and groovy breaks ++on the roof++ with our Freekfactory and Sub Swara cousins:
HAJ (Freekfactory | Sub Swara)
SPIRO (Freekfactory)
BLACKLIGHT (Freekfactory)
DHRUVA (Sub Swara)
ALIEN AMBASSADOR (CoSM)
sound by 28thday
Visuals by Spot (Spotworks | spotworks.com)
Decor by James Vogel (thedanger.com)
Grand Space
778 Bergen St
Brooklyn
11pm - 6am or later
$22 presale | $30 door if available * attendance controlled
Posted by spot at
11:41 AM
|
Comments (0)
Burning Man Pix
Wow, best burn ever. Again :)
There are two galleries, one with just the HiFiDreams projected onto the playa and people, and another with the whole experience.
Posted by spot at
11:45 PM
|
Comments (0)
Electric Sheep in Boise Triennial
Electric Sheep
will be exhibited in the
Idaho Triennial
at the
Boise Art Museum
September 1 – November 25, 2007 by
BOCOLAB
. Thanks guys! If you get any good pix of the opening pls post em here.
Posted by spot at
04:28 PM
|
Comments (0)