Holiday Gift Email
Greetings Fans of the Electric Sheep.
First, our gift to you is a pre-release of new versions including support for dual monitors! Get it from http://community.electricsheep.org/node/403
And then a chance for you to give a gift, to someone special or yourself. All proceeds go to keep the software free and open source.
- Our all-over-print shirts, a new line of art we launched this summer, have been selling briskly. We've noticed a phenomenon where a few weeks after someone receives one in a certain town, we get another order from that same town. Obviously once people see it, they want one for themselves! These t-shirts are like nothing you have ever seen before - unless of course you watch the Electric Sheep. Also available in two stunning women's styles. Please order by **Nov. 20** to ensure Christmas arrival. $88. http://scottdraves.com/shirts.html
- Quality prints signed by the artist. You can be the proud giver (or owner!) of a collector's item print (limited edition of 4 for each design). Ranging from the impressionistic to the molecular, from the intergalactic to the embryonic, each choice is more mind-blowing than the next. Black or white backgrounds available. Arrives in a tube ready for framing. Please order by Dec. 15 to ensure Christmas arrival. $85 and up. http://scottdraves.com/prints.html
- Electric Sheep logo tees. Colorful menís, womenís and childrenís cotton tees and tank tops, plus a laptop sleeve, embossed with our logo in velvety flock fabric. $21.90. http://electricsheep.spreadshirt.com
- Golden Thistle greeting cards. Glossy 4" by 5 1/2" cards featuring the glorious Golden Thistle. Most people ask if this design began with an organic photo, of feathers or fur... nope! It's the solution to a mathematical equation, evolved by all of you. Cards arrive bundled, attractively tied with a bow. Matching envelopes show half the thistle on the back flap. Set of 6. Order by Dec. 15 to ensure Christmas arrival. $19. (website coming, email Isabel@spotworks.com to order)
- Clade 1. Unless you've been to one of a few privately owned galleries in the US, you've never seen Sheep this perfect before. Created in true high-definition (1080p) in a limited edition of 50 with 44 remaining, these designer Blu-Ray disks are the cheapest way to get museum-quality Electric Sheep onto your flat-screen TV. You too can have what Google NYC bought for its founder's office. The signed, numbered disk arrives with a holographic seal of authenticity in an attractive package suitable for gifting without additional wrap. Requires a Blu-Ray player or Sony Playstation and your HDTV screen. Please order by Dec. 15 to ensure Christmas arrival. $900. http://scottdraves.com/bluray.html (we also have demo Blu Rays for $90 on the same page)
Your Spotworks merchandise purchase helps support the Electric Sheep, a project that requires constant and expensive maintenance and development.
Thank you, -Spot
Posted by spot at
07:23 PM
|
Comments (0)
We Have a Winner
Emre was the winner of our "Lost Sheep" contest, here's a picture of him receiving his prize, a signed and numbered limited edition print of
my artwork made with the Electric Sheep
.
For the Art in Odd Places show, we set up screens running Electric Sheep in various places along 14th St. Every once in a while a message would pop up, congratulating teh viewer on finding the "Lost Sheep" and giving them an address to enter to win a prize. Emre took some time from his busy day to enjoy a bit of abstract art, and this is his reward. Thanks Emre for your participation.
previously: announcement and pictures.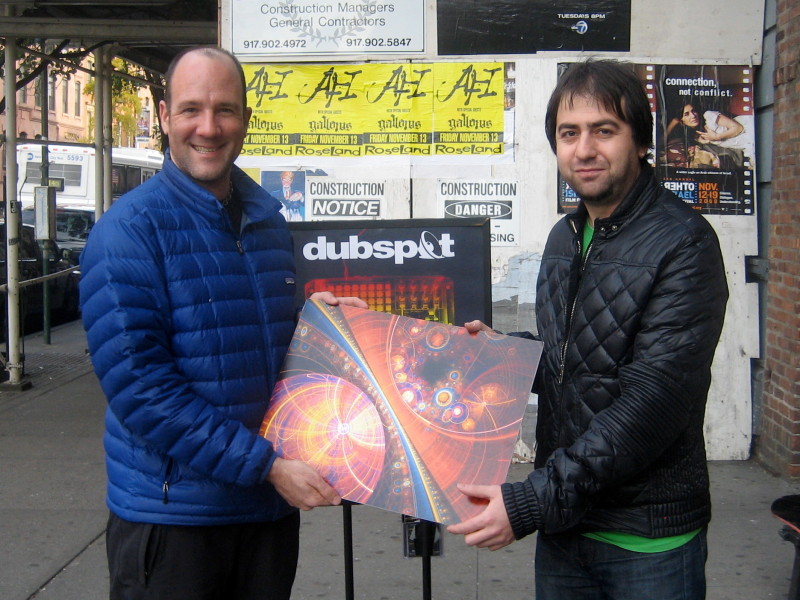 Posted by spot at
09:17 AM
|
Comments (0)